Welcome to PBC!
We're so glad you're visiting our website, and we hope to meet you sometime in person! Our church family experiences God the same way Christians have for two thousand years… through prayer and worship, through investing in each other relationally, and through living out God's word, the Bible. It's simple and straight-forward, genuine and life-changing, and it's all centered on the person of Jesus Christ. We'd love for you to join us on this journey of faith and experience God's grace which truly is amazing!
It is time for the LORD to act,
For they have broken Your law. Psalm 119:126
Our Psalm for this week: Psalm 119
We have something in common with the author of Psalm 119… we both live in times when people have a disregard for God's law.  One version translates verse 126 as "They have made your word void".  Empty.  When people hear God's word today, they feel nothing.  No remorse, no conviction.  They mock it as "quaint" or worse, they judge it to be "oppressive" and they hate it.  Does this not describe our country at the present time?  We are making God's word NOTHING!  And the Psalmist can empathize, for he lived in a world of seething disregard for God's word.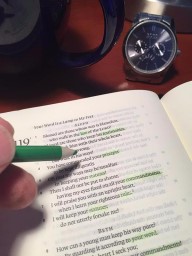 This longest of all the Psalms is a passionate testimony to God's word.  It has 22 stanzas that form an acrostic, each stanza begins with a letter from the Hebrew alphabet, each has 8 verses.  And there are 8 words that resonate through this Psalm and each is a synonym for God's word: 
Law, Precept, Testimony, Promise, Statutes, Commandments, Ordinances, God's Word
.  Like 8 uniquely pitched bells, they chime a beautiful bell chorus to God's word (Derek Kidner, Commentary on Psalms – the best, most concise commentary on the Psalms.  A must for the serious student of the scripture).  Other words like "rules" are used, but the same 8 Hebrew words are used throughout.
The constant repetition and devoted language causes some concern.  They say the Psalmist is "worshipping the law".  Yet the entire Psalm is a prayer TO the God behind the law.  It reflects His character.  It mirrors His heart and is like a cherished love letter from an adoring suitor.
 Friends, as we take this entire week to soak in Psalm 119, let's allow a respect and love for God's word to settle in on us.  In an age when God's word is written off as "out of touch with our civilized sensibilities", we need a renewed commitment to the wisdom of God contained in His word.   Notice as you read the result of such a devotion will be things like "liberty", "Life", "Light" and "Stability" (Kidner).  God promises a good life (not an easy one) to all who learn from Him and follow His ways.  Basically, studying His word allows us to do things His way, and that's always going to work out well for us.
And one more thing to consider… the Old Testament emphasis on the "LAW" may leave us New Testament Christians a bit cold.  After all, we know the law condemns, but Christ brings life (the book of Galatians)!  How can I share the Psalmists gushing love for the law when I know it's simply there to point me to Christ?  Why do I need it anymore?  Great question actually.  But let's remember the law has never been nullified.  It still stands as tutor escorting us to Jesus.  For that reason it still has a vital purpose… not to save, but to guide.  In the law we see God's beautifully perfect standard, which we can still admire and respect and even cherish.  His ways are righteous and good.  And through Psalm 119 we can see His wisdom and how all things fit together around the person of His Son!
So enjoy Psalm 119 this week!  Do a couple stanzas a day and write down your observations on it.  What benefit does the Psalmist say there is a loving God's law?