Welcome to PBC!
We're so glad you're visiting our website, and we hope to meet you sometime in person! Our church family experiences God the same way Christians have for two thousand years… through prayer and worship, through investing in each other relationally, and through living out God's word, the Bible. It's simple and straight-forward, genuine and life-changing, and it's all centered on the person of Jesus Christ. We'd love for you to join us on this journey of faith and experience God's grace which truly is amazing!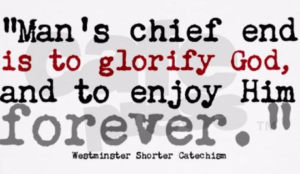 This week… Psalms 96-100
This quote is from the Westminster Catechism, which summaries the primary objective of our lives.  What a purpose!!  John Piper substitutes "by" for "and", giving clarity I think to HOW we glorify God…
"glorify God BY enjoying Him forever".   We can best glorify God when we're enjoying Him for who He is.
That's why the Psalms are so necessary to us.  They direct us from "me-centered"brooding to God-intoxicated joy.   Psalm 100 begins with"Shout Joyfully to the Lord!".  Now let's think about that for a moment.  Have we ever done that?  Ever?  Have we ever been so overcome with thanksgiving or awe or pure joy that we raised our eyes to heaven and gave a shout?  I'm embarrassed to say I've rarely done that.  Its not part of my normal routine.  But are we missing something?  Is there a level of intimacy and joy that we're not experiencing with God?  Is our relationship with God more like a dry loveless marriage, or the passionate pursuit of a suitor?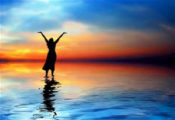 This week, let's try an experiment.  It might be hard at first,  funny, awkward, or silly.  But remember what its like when you're team sinks the winning basket… how you spontaneously jumped up and gave a shout.  That didn't feel funny, and neither should it feel weird to praise God enthusiastically.  We've just not trained ourselves to do it.  So let's find a secluded place, and feel what its like to shout out to the Lord!  Turn on some praise music and sing along with uncontrolled zeal!  Or alone in your basement, start thanking the Lord for all He's done… then end with holy holler!  Pick an appropriate phrase like "Praise God for All He's Done!" or just turn to Psalm 100 and shout out the whole Psalm!
The point is this: God is worth it!  So training and disciplining our hearts to rejoice in the Lord is only fitting.  It's what we'll be doing in heaven, so let's get some practice down here!  This is not a peripheral pursuit, but a primary purpose!