Welcome to PBC!
We're so glad you're visiting our website, and we hope to meet you sometime in person! Our church family experiences God the same way Christians have for two thousand years… through prayer and worship, through investing in each other relationally, and through living out God's word, the Bible. It's simple and straight-forward, genuine and life-changing, and it's all centered on the person of Jesus Christ. We'd love for you to join us on this journey of faith and experience God's grace which truly is amazing!
The mantra of our time is: I deserve to be Healthy, Wealthy and Happy! By virtue of being born, some force in the universe owes me!
This idea is repeated so often it's accepted uncritically.  More and more the results of this expectation become apparent… frustration, anger and the demandingness of the ENTITLED.
When we exalt our happiness, we become it's slave, and then in turn we become demanding (What an ugly attitude!  Are we demanding??).
When things are not fun anymore, we quit.  It may be a job or school, or a marriage, or a friendship, or a church.  If it's not making us happy, we're out.  Why?  Because we deserve to be happy.
Cursed Millennials! Previous generations held up sacrifice as a virtue.  Now if I'm having to sacrifice a part of my life, I get bitter.  The expectation of hardship used to also be there.  But now, guided by nothing but our feelings, we live unsatisfied, unstable lives … one moment blissful, the next unbearable.  As my wife and I counsel with folks, we find this feelings-orientation at the root of many bad decisions.
"My husband is not making me happy".
"My wife is not pleasing me".
"The people at church are not letting me exercise my gifts".
"My friends don't appreciate me"
The problem is always with the OTHER person!
Well now that we've picked on the Millennials we can feel better right?
Except if we pause for just a moment, we realize that same attitude has taken root in our souls as well.  It's kind of a human thing!  But what if we allowed the Spirit to speak deeply into our hearts?  Do we see a demanding spirit in our own lives?  The key to locating it is to see what makes us irritable.  "When ______________ is taken away, I get cranky".  That just might reveal the "I deserve to be happy" attitude has embedded itself in our heart of hearts.
So what to do?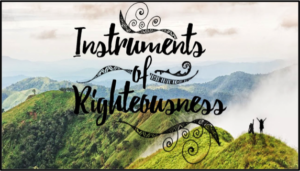 Well, let's consider an alternative.  What if we recalibrated the settings of our life and chose a different orientation?  What if instead of demanding happiness, we saw the goal as presenting ourselves to God?
Paul says it so well in Romans 6:13b…
"but present yourselves to God as those alive from the dead, and your members as instruments of righteousness to God"
First of all, when I start my day remembering that I am one "alive from the dead" I begin with a profound sense of thankfulness.  I once was dead… now I'm ALIVE!!   Thank you Jesus for your grace!  Already the spirit of demandingness is losing its grip!
Next, poke around for a bit in Romans 6.  Notice how the word "present" occurs repeatedly, especially in connection with the world "slaves".   "Present yourselves as slaves for obedience" (16), "Present your members as slaves to righteousness" (19).  This is the antithesis of demandingness isn't it?  Instead of demanding the world make me happy, I willingly offer up my life to God. Every aspect of my life (my "members") comes under His Lordship!
My stubborn will becomes malleable and soft.  I become the Lord's slave and I am content to do what He asks me to do.  A noticeable attitude shift occurs.
What an antidote to the ugliness of a demanding spirit!  Ironically, I become more happy as I do this!  Why?  Because I'm doing what God created me to do!
EXPERIMENT:  Let's try something this week.  Let's present all of ourselves to God as we start each day.  Every bit of us… our mouths (the words we say), our hands (what we do) our feet (where we go)… let's give it up to the Lord.  "Today Lord, I'm not fighting for MY happiness.  I'm striving to make YOU happy!"
The great thing is, no matter what comes my way, I can accomplish that goal!
With much love and in great appreciation of the warm weather!