Welcome to PBC!
We're so glad you're visiting our website, and we hope to meet you sometime in person! Our church family experiences God the same way Christians have for two thousand years… through prayer and worship, through investing in each other relationally, and through living out God's word, the Bible. It's simple and straight-forward, genuine and life-changing, and it's all centered on the person of Jesus Christ. We'd love for you to join us on this journey of faith and experience God's grace which truly is amazing!
NEW SUNDAY SERVICE TIME
beginning April 8
Our Sunday morning worship service is moving to a new time! The new schedule is as follows:
9:30 AM — Worship
10:40 AM — Snack and Fellowship
11:00 AM — Connect Groups and Kids Connect Groups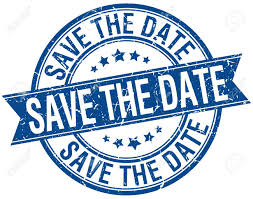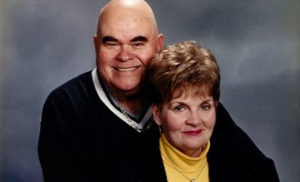 Recently my old high school football coach passed away. This is a picture of him and his wife. I think you can tell by the picture that smiling didn't come naturally to him. To be fair though, we all loved him. He would snort out a laugh when we teased him about his bald head… which in those days he would try and hide either with a huge black cowboy hat, or by spray painting his head with this stuff called "Top Job".  It didn't work.
My most vivid memory of the guy was him screaming at us at half-time, breaking his clipboard over our helmets. He chewed some kind of green gum so when he was yelling at us (I'm not exaggerating) green foam would seep from the corners of his mouth. He was a ferocious storm in the locker room or on the sideline… someone we all feared.
But he also transformed our football team (and many of us individually) forever. Caffrey came to our school while we were still playing 6-man tackle football. That changed the first year he arrived. He bumped us up a league and had us playing regular 11-man football. Few thought we could do it. We were a small school. But his massive frame and no-nonsense off-season training inspired confidence in us. In terms of football, he knew what he was doing. In three seasons, we became unstoppable… dominating our league and going all the way to the California State Quarterfinals.  A few short years after I graduated, we won the state championship.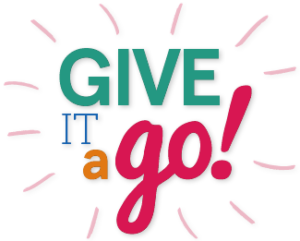 And all of us will forever remember our slogan… "GIVE IT A GO!". Caffrey knew we were long-shots, that we didn't think much of our chances. So he used a slogan that in effect said: "What do you have to lose? GIVE IT A GO!" We said it after every practice and at every game.
I thought of Coach Caffrey and that silly catch phrase last week. (It's drilled into my head) At PBC we're starting something new, and while most are excited about our new ministry model, there are others who are apprehensive. Maybe it threatens something they value… like stability, privacy, or orthodoxy. In some way that's OK because it means they like what we've got. I do too! Praise God for the wonderful church PBC is becoming.
But if… in the interest of being more effective in growing God's kingdom, we try something different… if we attempt to improve… then why not "Give it a go!"  Try it for a month or two. Give us time to work out the bugs. What have we got to lose?
The work of the Lord is worthy of striving for excellence. We should always be trying to advance the cause of Christ in new and better ways. He is worthy isn't He?
Now I'm not going to foam green at the mouth or break clip-boards on anyone's head. But I will challenge our entire PBC family, young and old, to not just quietly disengage from our new ministry model. Please friends, let's do this together! We'd love to have everyone participate! I realize the Elders and Staff are only human, and I would never ask you to just blindly follow us anywhere. But after much research, prayer and discussion, we have charted a course and believe it is worthy of "Giving it a go!". Would you come along with us?
I hope so!
The new model starts in about 2 ½ weeks. Please sign up for a Connect group this week! Be in prayer for us… that God would use this new model to get us more invested in each other and growing more deeply with Christ.